Looking to promote your community in a vivid and inviting way?   Nebraska Public Power District's Economic Development's community guide program can help.
What was once a simple "community facts" book, is now a four-color, magazine style publication and an essential service to communities served by NPPD Retail or one of NPPD's wholesale electric utility partners.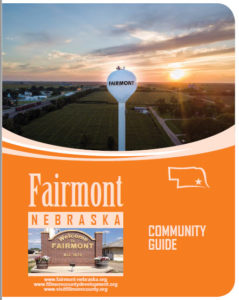 Just ask our communities.
"The Community Guide is a wonderful way to showcase Fairmont—not only to the residents, but also alumni who are interested in the hometown," explains Village of Fairmont Clerk/Treasurer Linda Carroll. "The Community Guide is a valuable economic recruitment tool, and we have the guide accessible on the Village of Fairmont's web site www.fairmont-nebraska.org for the entire world to view.  That's exciting!"
NPPD also offers a "lite" version of the community guide that is better suited for smaller communities.
"It too, is an attractive magazine-style marketing piece, but is tailored to smaller communities who don't have the resources to gather some of the information necessary for the larger guide," said Tami Swanson, NPPD Economic Development Coordinator.
"The NPPD community guide lite that Beemer and Bancroft both recently completed are such a valuable resource," said Nicki White, Communications Manager, Cuming County Public Power District.
"Having the option to produce a shorter version of the guide for smaller communities is ideal. Prospective business owners or anyone looking to relocate can look for these guides online and find information on many towns and cities in Nebraska," she said. "We are fortunate to have such great connections with Nebraska Public Power District, Bancroft and Beemer Villages, and Cuming County Economic Development. Collaborating on a common goal is very rewarding."
Twenty-three communities have completed community guides since 2013, while six have published a community guide "lite," since its inception last year. Limited quantities of either publication are printed, with the real value being the document posted in PDF format on each community's website, as well as on NPPD's Economic Development website https://sites.nppd.com.
The Village of Fairmont and Cuming County Public Power District are both wholesale customers of NPPD.