The Nebraska Diplomats hosted its annual awards banquet on Tuesday, August 9th at the Younes Conference Center North in Kearney. Governor Jim Pillen, Nebraska Diplomats President Desiree Wineland, and Nebraska Department of Agriculture Director Sherry Vinton presented the awards.
The Business of the Year award went to Preferred Popcorn in Chapman, Nebraska. In 2018 Preferred Popcorn expanded their Chapman facility into a state-of-the-art popcorn processing plant with a $6.5 million expansion. With an investment of $2 million in 2022, the company opened Preferred Snacks in Waco to provide quality, ready-to-eat flavored popcorn and snacks. The venture in Waco started with seven employees and has grown to 17 as of the summer of 2023. It is expected to have 25 employees by the end of this year. Preferred Popcorn is a customer of Southern Public Power District.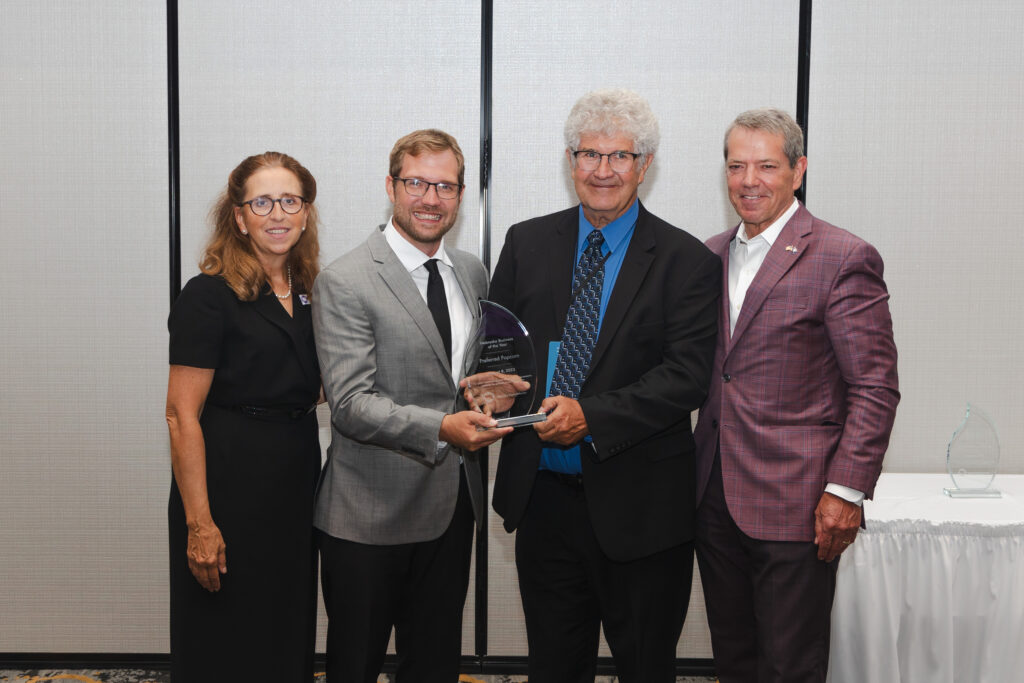 Pictured left to right – Nebraska Diplomats President Desiree Wineland, General Manager of Preferred Popcorn Sam Krug, Norm Krug Founder & CEO of Preferred Popcorn and Governor Jim Pillen.
Pictured left to right – Nebraska Diplomats President Desiree Wineland, State Senator Mike Jacobson, North Platte Mayor Brandon Kelliher, Lincoln County Commissioner Jerry Woodruff and Governor Jim Pillen.
The Community of the Year was awarded to North Platte. North Platte is enjoying rapid economic growth, with approximately $2 billion in new projects underway. This community wrapped up 2022 with record retail sales and lodging revenues. 2023 is already the city's largest construction year on record, as measured by the value of building permits.
A number of high-profile projects are taking place in the community, including:
Sustainable Beef, a rancher-owned beef processing plant, is currently under construction. It is expected to create 875 direct and 1,040 indirect jobs in North Platte. In August 2022, Sustainable Beef announced a major partnership agreement with Walmart.
Leaders in North Platte have played a key role in the development of an Industrial Rail Park near Hershey. Over time, the 300-acre park is projected to have a $1.8 billion impact and create up to 1,000 jobs. In October 2022, the North Platte Area Chamber and Development Corporation, in partnership with Lincoln County, purchased a 53,000 square foot production facility from Greenbrier Rail Services that will have an initial spur to the Union Pacific mainline. The Nebraska Department of Economic Development certified the rail park as an Inland Port Authority in February 2023.
Rev Development is redeveloping North Platte's mall into a mixed-use commercial and housing development known as District 177. The $85 million project involves construction of numerous retail spaces, along with 96 apartment units.
North Platte has successfully completed a $4 million, four-year project to transform its historic downtown into the newly renovated Canteen District.
The National Guard has constructed a $3 million readiness center and new guard unit facility at the North Platte airport.
North Platte has engaged in new housing development through its successful "Shot in the Arm" housing initiative. The North Platte Area Chamber and Development Corporation put together the incentive program, which has assisted the construction of 500 new housing units since 2015.
Great Plains Health has grown to 1,200 employees and is currently constructing a stand-alone, $30 million Primary Care Center. Additionally, the hospital recently opened a $6+ million neurosurgery clinic and announced a new sports and medicine therapy complex.
The city of North Platte is a wholesale customer of NPPD.
NPPD's Economic Development Team congratulates both Preferred Popcorn and the City of North Platte on these outstanding achievements!